Two Debian developers Raphaël Hertzog and Roland Mas have announced the release of 'The Debian Administrator's Handbook'. The book is an English translation of their best selling French book 'Cahier de l'admin Debian'. It took them 5 months of hard work to translate the book to English.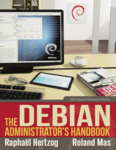 The 495 page book teaches basics of Debian administration like Debian Installation, Basic Configuration and also deals with advanced topics such as Workstation Configuration, Unix Services, Network Infrastructure, Network Services, Advanced Administration and Security.
The book is available for free download in PDF, EPUB, MOBI and HTML formats. A paperback edition is also available for purchase from Lulu.com.
Go here to read the release announcement – http://debian-handbook.info/2012/the-debian-administrators-handbook-is-available
Go here to download The Debian Administrator's Handbook – http://debian-handbook.info/get/now
Go here to buy the paperback version or donate to the authors – http://debian-handbook.info/get