DoNotTrack Plus [DNT+] is a Firefox add-on that blocks website trackers and beacons that are used by advertisers whenever websites are visited. Using this add-on, it is possible to see what type of sites are tracking your browsing habits and block them.
Download and install DoNotTrack Plus from here.

1. Once installed, a green icon will show up on right side of Firefox window. Clicking this icon will display how many trackers have been blocked. Go to any popular website and check out what kind of trackers are active as shown below. The number in the green icon will display the number of ad companies tracking your visit (in this case 3).
2. For checking out different web trackers that are currently being blocked and the overall list of such trackers, click on Settings. Also there is the option of selecting "Block all" ad trackers or "Unblock all" if needed.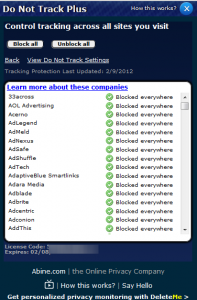 3. Clicking "View Do Not Track settings" allows adding exceptions /specific websites which can track if required and other options as shown below.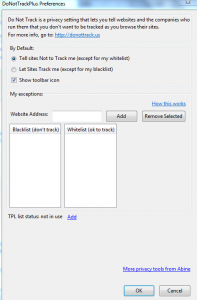 To see how DNT+ really works, their homepage has a cool video which explains what it does. Check it out here. DNT+ is available for other browsers too like Chrome, IE, Safari too which is nice.
A very useful add-on in this age of social media. 🙂