Outlook 2010 by default waits a few seconds before marking an email message /items as read when the selection is on that specific item. This can be a bit confusing when you haven't really read a message fully or opened that item but just skimmed the subject and yet still is marked as read.
To avoid this and marking the new emails/items as read only when the selection changes from them to the next one :
1. Open Outlook 2010 and select File > Options.
2. Select Advanced > Reading Pane.
3. From the window that appears, highlight the option "Mark item as read when selection changes". This will automatically disable the first option which has few seconds as the waiting time.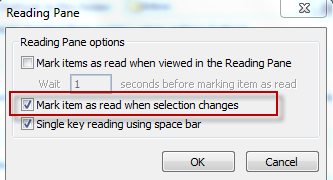 From now on, whenever the selection changes from the specific item (email/task/reminder etc) only then, it will be marked as read.
All done.