Forgetting passwords can be scary and even scarier when you don't have means to either reset them or recover them. In case of Gmail accounts for most, it can mean losing a lot of important information as well as personal emails.
However, Gmail offers the option of adding an email address which can be used for password recovery. What this means is that there is an option of adding an alternate email address and associate it with the existing Gmail account so that in case of forgotten password, the reset link for the same will be emailed to this alternate email address.
Here is how to add the alternate email address :
1. Login to Gmail and click on the gear icon, then click "Mail settings".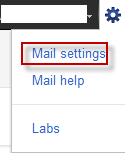 2. From the "Accounts and Import" tab, select "Change password recovery options" next to "Change account settings".

3. This will open a recovery page and ask for your credentials as verification, enter them and select the option of adding an email as shown.


4. This will allow to add another email address besides the primary Gmail address where password reset link will be set when Gmail password is forgotten.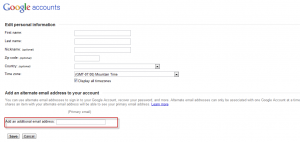 All done.