Here's how install and use FreeCommander: A Cool Dual Pane, Lightweight File Manager For Windows –
1. Go to freecommander.com/fc_downl_en.htm and click on 'fc_setup_.zip' to download the file.
2. Extract the 'fc_setup.exe' from the saved 'fc_setup_.zip' archive and execute it. Install 'FreeCommander' like any standard Windows application.
3. After the installation is complete, double click the 'FreeCommander' icon on the desktop to start the application.

4. Enjoy easy file management with FreeCommander. This file manager is especially useful while transferring files between different folders/drives.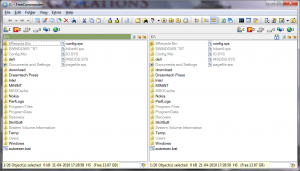 Other benefits of this file manager are –
    Dual-panel technology – horizontal and vertical
    Optional tree view for each panel
    Built in file viewer to view files in hex, binary, text or image format
    File viewer inside archives too
    Built in archive handling: ZIP (read, write), CAB (read, write), RAR (read)
    Nested archive handling
    Built in FTP client
    Easy access to system folders, control panel, desktop and start menu
    Copy, move, delete, rename files and folders
    Create and verify MD5 checksums
    File properties and context menu
    Calculation of folder size
    Folder comparison / synchronization
    Modification of file date and attributes
    Folder / program favorites
    File searching (inside archive too)
    File filters for display
    User defined columns for detailed view
    Multiple language  support