Internet Explorer 9 comes with an option of pinning favorite websites to the Windows start menu so that they can be launched directly just like an application instead of first loading Internet Explorer and then typing in the website address or using Favorites tab.
To do this :
1. Open Internet Explorer 9 and select the gear icon. From the menu that appears, select File > Add site to Start menu.

2. This will bring a message box asking if the selected website needs to be added to the Start menu. Hit Add.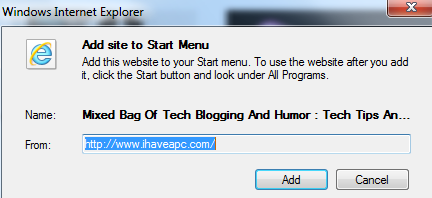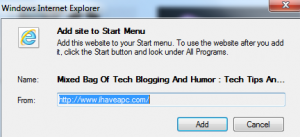 3. The website will now show up on accessing the Windows start menu. This can be pretty useful when you have a bunch of websites which are used often but not all the time or even sites that can only be viewed in Internet Explorer, they can be simply pinned to the Start menu and accessed as and when required.


Happy surfing.