Microsoft Excel 2010 by default has 3 blank sheets within a new Excel workbook.
Here is how to change the default number of blank sheets from just 3 to any other quantity as needed :
1. Open Microsoft Excel 2010 and under the File section, select Options.

2. In the General category, under "When creating new workbooks", change the number for "Include this many sheets" from 3 to what is needed (5 in this example).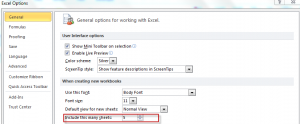 3. Save changes and restart Excel. From now on, all the blank workbooks will have the custom number of worksheets as specified in previous step.
Cheers.