The App Tabs feature in Firefox is a handy way to stay in sync with most frequently accessed websites by making them into an App Tab. What this simply means is that these sites will not be like regular tabs which will get closed on exit and have to be reloaded once Firefox is restarted, instead they will show up as tiny icons every time Firefox is open and will update themselves automatically.
To make any site into an App Tab :
1. Open the website in regular tab as usual, then right click and select "Pin as App Tab".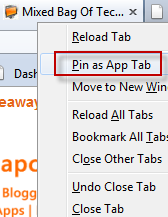 2. This will now display that site with its favicon on the left side of tabs and will stay active till it is an App Tab.

3. To remove it from App Tab, right click it and select "Unpin Tab".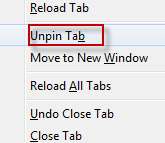 All done. By the way, instead of App Tabs, if you want to reload the exact same sites in regular tabs every time when Firefox is launched, enabling session restore is a good way to do it.