Update as of 2023: This add-on is now depreciated
Scroogle is an anonymous and ad-free Google search scraper that returns Google search results but doesn't store cookies, user preferences and also removes access logs of searches every 48 hours.
Here is how to add it to list of search engines when using Mozilla Firefox :
1. Download the Scroogle SSL search add-on from here.
2. Select Add to Firefox and let the add-on be installed.
Once installed, restart Firefox when prompted. Now from the search engine tab within Firefox, Scroogle should appear among the list of other search engines like Bing, Google, Yahoo! etc.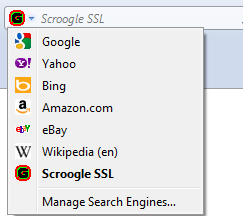 Simply select Scroogle and use it for searching as and when needed.
Cheers.