Here's how to install and use 'Radio Tray', a cool, non-intrusive internet radio application for Linux Mint / Ubuntu:
1. Issue the following command at the terminal –
sudo apt-get install radiotray
2. After the installation is complete, click on 'Menu>Sound & Video>Radio Tray' to start the application.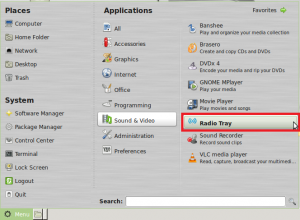 3. A radio icon will appear in your system tray. Click on the icon and choose the internet radio channel that you want to play.
4. As soon as the chosen internet radio channel starts playing, the radio icon turn blue and you'll be notified about the song that is being played.
5. To turn off the internet radio channel, click on the radio icon and select 'Turn Off <Channel name being played>'.