The popular HJSplit is available for Linux Mint / Ubuntu as well but it doesn't involve installing and using it the usual way. (The other alternative is LxSplit which is mentioned in this post.)
To get HJSplit installed and running in Linux Mint / Ubuntu :
1. First make sure that the Java run time environment is installed or install it by typing the following in Terminal :
sudo apt-get install sun-java6-jre

2. Next, download the HJsplit package through the following command in Terminal :
wget http://www.freebyte.com/download/hjsplit/hjsplit_g.jar

3. Then make a new directory named hjsplit in /opt by typing sudo mkdir /opt/hjsplit.
(You can make a new directory of your choice, just change the path in the above example to reflect the same.)

4. Now move the downloaded package to this newly created directory by typing sudo mv hjsplit_g.jar /opt/hjsplit
5. Finally, to launch HJsplit, type the command cd /opt/hjsplit/ && java -jar hjsplit_g.jar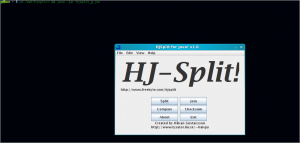 All done.
[ Update : You can make a simple shell script that will do the same as above, this post describes it how.]