Here is a cool Twitter based service that alerts you based on the keywords / phrases that you set when related to Twitter conversations.
Go to Tweetbeep and sign up for free.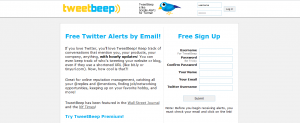 Once logged in, you can create Twitter alerts that pick up keywords or phrases of your choice and emailed to you. The free account allows upto 10 Twitter alerts to be created.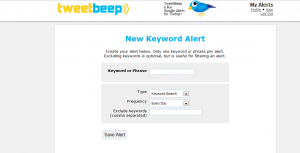 The premium service allows more than 10 Twitter alerts to be configured . Simply put, Tweetbeep is to Twitter what is Google Alerts is to the web.
Happy Tweet-ing!