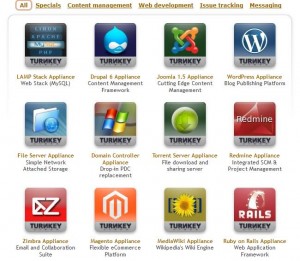 TurnKey Linux is a free virtual appliance library of open source server applications. The core of TurnKey Linux is made up of Ubuntu 10.04.1 upon which the open source server application is installed with bare minimum components required to run that server application. This results in a lightweight server appliance while increasing efficiency and reducing security risk. The virtual appliances are available as .vmdk / .ovf and .iso format images and therefore can be easily deployed on bare metal, as a virtual machine (in VMWare/Virtual Box) and in the cloud. The appliances feature a web-based interface for easy management.
The following virtual appliances are available for download –
1. LAMP Stack Appliance
2. Drupal 6 Appliance
3. Joomla 1.5 Appliance
4. WordPress Appliance
5. File Server Appliance
6. Domain Controller Appliance
7. Torrent Server Appliance
8. Redmine Appliance
9. Magento Appliance
10. Zimbra Appliance
11. OpenBravo Appliance
12. Ruby on Rails Appliance
13. MediaWiki Appliance
14. Moodle Appliance
15. OTRS Appliance
16. MySQL Appliance
17. PostgreSQL Appliance
18. Revision Control Appliance
19. Tomcat on Apache Appliance
20. Standalone Tomcat Appliance
21. phpBB Appliance
22. Tracks Appliance
23. Trac Appliance
24. vTiger CRM Appliance
25. PrestaShop Appliance
26. StatusNet Appliance
27. Joomla 1.6 Appliance
28. Django Appliance
29. LAPP Appliance
30. Deki Appliance
31. TWiki Appliance
32. ejabberd Appliance
33. Gallery Appliance
34. DokuWiki Appliance
35. ProjectPier Appliance
36. Movable Type Appliance
37. Symfony Appliance
38. MoinMoin Appliance
39. App Engine Appliance
40. Roundup Appliance
41. Bugzilla Appliance
42. Mantis Appliance
43. TurnKey Core
44. Bootstrap JeOS
45. SDK for Amazon EC2
Head over here to download the virtual appliances.