Firefox can remember passwords of sites being accessed so that one doesn't need to remember the password for each site every time. (You can do this by selecting the "Remember passwords for sites" options from the Security tab.)
However, this also leads to easy access to stored user names and passwords via the "Saved Passwords" tab making it very risky to do this all by itself on a shared computer or even on a single user machine.
To protect this list of stored user names and passwords, it is possible to implement a master password in Firefox which when entered correctly will give access to the stored list and not before that.
To do this :
1. Go to Tools > Options in Firefox.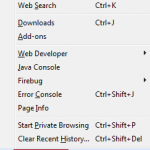 2. Select the Security Tab and select "Use a master password". Enter a strong password by checking the length of green indicator as shown so that it is not easy to guess.

3. Click Ok and now try to access the list of previously stored passwords and user names by selecting "Saved Passwords". It should no longer open directly without first asking for the master password that was just set.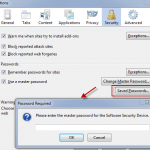 It is highly recommended that you either use a master password to restrict access to the saved passwords lists or just turn off the option to remember passwords in Firefox.
Cheers.