DjVu is an alternate document format for digital files that is helpful when converting scanned documents as well as other type of documents into digital or electronic format.
A DjVu converted file is with a .djvu extension and can't be opened by other programs like Adobe or Word.
Here is a freeDjVu viewer that can be used to view the .djvu documents.
Simply download the free application and once installed, all existing files on the computer that are of the djvu type will now be associated with this viewer.

In case you need to change the default DjVu viewer from Win DjView to something else, simply open WinDjView and go to File > Settings > Advanced, then remove the tick mark next to the option "Tell me if WinDjView is not the default DjVu viewer".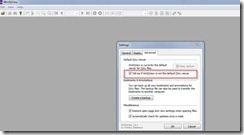 Cheers.