Recently Google announced Google Instant which shows search results real time as you type and provides related suggestions.
Here is a pretty cool website that actually extends this same concept to YouTube and it is called YouTube Instant.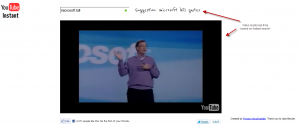 Just type what you are looking for and a corresponding YouTube video will start loading based on the instant search.
How's that for being cool? 😉