It can happen at times when using public computers or other systems that programs like Winzip, WinRar or others may not be installed.It can also happen that permissions to launch applications may be disabled hence making it difficult to decompress files.
Now it is possible to decompress files which are using compression formats like zip, 7z, rar, cab, iso, deb, rpm and more using this cool website for free.
Do note that WobZIP is currently in development and testing phase and offers only uncompressing of files as of now but it still is pretty handy.
To uncompress a file (in this example, a zip file named style.zip containing a single file called style.css is used), do the following :
1. Go to WobZIP
2. Upload the zipped or compressed file that needs to be decompressed.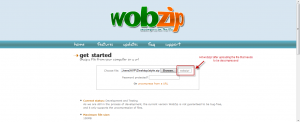 3. Enter a password in case the compressed file is password protected.
4. Hit wobzip! button.
5. It will now show the extracted file (style.css in this case) as a direct download from the browser.
WobZIP also offers the facility of directly uncompressing the files from a web link.
To do that, follow the below format :
http://sitename.com/?type=url&url=FILE_URL_HERE&p=PASSWORD_HERE
Cheers 🙂