If your company loves corporate language more than it's hard working geeky employees, then bullshit bingo is for you. Here how to play this funny game:
1. Go to http://www.bullshitbingo.net/cards/bullshit/
2. You will see a bullshit bingo card like this on the screen-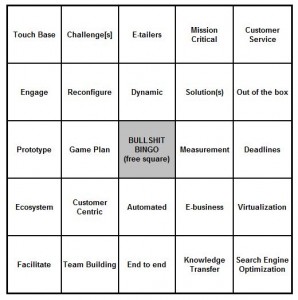 3. Print the bullshit bingo card and refresh the page. After the page is refreshed a new card will be generated. Print the new card too. Repeat this until you have sufficient cards for all the players.
4. Now comes the funny part. All the players have to attend company's meeting / conference call with their bullshit bingo cards and strike off the block from their card each time they hear that particular word. Person who gets five blocks horizontally, vertically, or diagonally, has to stand up and shout 'BULLSHIT!'
Have fun playing this game and don't get fired 😉