It is possible to change your ads preferences which are used by Google to target your interests.
To do this go to www.google.com/ads/preferences
This will automatically display the web page below if you are already signed with your Google account, else you would need to sign in.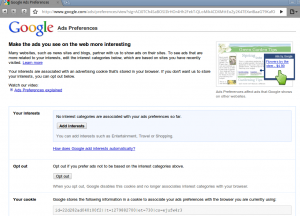 Add your interests or edit them as per your preferences by clicking the Add Interests button.
In case you want to opt out of receiving Google ads based on your preferences, hit the Opt out button which will disable the related cookie used to target ads based on your interests.
All done.