There are plenty of choices when it comes to using browsers for Linux : Opera, FireFox, Chrome and so on.
If you really are comfortable using FireFox and want to try a variation of it, then SwiftFox is the browser to use.
Download it from here .
Select the processor type you have so that appropriate browser setup is selected and after that select any of the install options : installer, deb files or tarball.
To install just run the installer command with root privileges :
sudo sh install-swiftfox.sh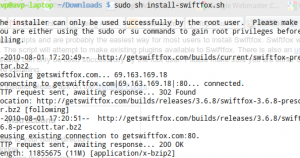 And done – all set to use SwiftFox from the Internet menu.