It is incredibly frustrating to complete a PC game midway,then for some reason need to reinstall operating system and reinstall that game only to find out that the backed up saved games no longer work and this means to play the game all over again from the beginning.
Sure you can try to backup the saved PC games folder but there is no guarantee that it really works.(We tried this for BattleField Bad Company 2 only to find that the backed up folder where the previous saved games were stored was no longer accepted once the game was reinstalled)
🙁
Here is an easy to use free tool called GameSave Manager and it does what it is named.It makes taking a backup of all available PC games on your computer possible from one interface and also equally makes it easy to restore.
Go to the website and download it,it is free.
Let's take a look on how to use it.
Open the program and notice the options : backup,restore and scheduled tasks.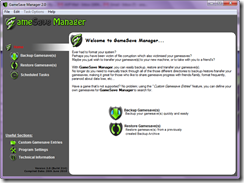 In order to backup saved games,click on the backup option which brings this window :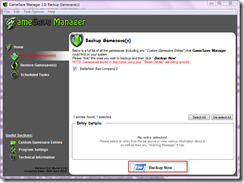 Here it has detected Battlefield Bad Company 2 has been installed and prompts for backing up it's saved games.
So specify a path where you would want to save the backup of saved games and hit Backup Now.
For restoring,click on the Restore link which will tell you to go to Task Options to restore the saved games.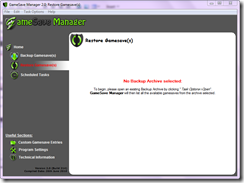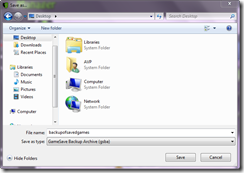 All done.
What the tool does is create an archive with extension .gsba which can be easily imported/restored as and when required.
Even cooler is that the tool supports most of the commonly available PC game titles and can scan the computer to see whether they are installed and perform a backup for all of the games if selected.
Happy gaming !