Blue screen or BSODs in Windows (Blue Screen of Death) errors as they are commonly called are troublesome to get rid of especially when you can't point to what exactly is causing them.
[The below steps are from www.avp-blogs.com]
Windows Vista just like XP by default is set to restart once a blue screen error is encountered.To effectively troubleshoot them,you must know what kind of message and error code do they show on screen and to see that,you have to first stop Vista from restarting every time BSODs pop up.
It is quite easy to halt Windows Vista when a blue screen pops up.
Here is how :
Go to Control Panel > System > Advanced System Settings.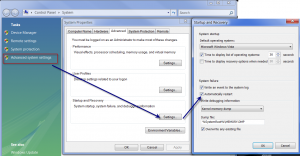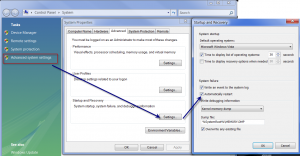 There,click on the Settings button under the Startup and Recovery section.
Once the other window pops up related to Startup and Recovery,simply uncheck the Automatically Restart option.
All done.
So from next time if you have a unfortunate experience of a BSOD,you can always look at the exact message it shows which will help in preventing it from happening again.
Hope this has been an informative post.